Spanish lessons en Oviedo
18-25 April 2015
by Jacques Papin, fan of the Spanish language and that would certainly nothing in the world the courses organized by Camilo Campillo.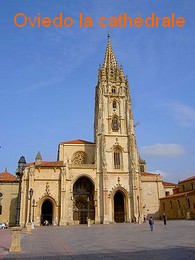 In 2014 we were in Andalusia, and in 2015 the Spanish lessons were organised in Oviedo, in the province of Asturias, in Northern Spain.
Clouds, rain and sunshine followed each other, but on the whole it was a beautiful week. The Asturias is a region where the sea and mountains stand alongside each other so the landscape is very varied. On the first day of our stay the bus took us to the national park Picos de Europa, in the direction of Cangas de Onis, then to the Covadonga sanctuary and up to Enol Lake: pretty countryside, a ray of sunshine would have made it perfect.
Our lessons started on Monday, when the team of four teachers taught us from 9.30am to 1.30pm (pronunciation, grammar, literature, etc)
The afternoons were spent sightseeing – during the week we visited the town of Oviedo (the cathedral, market, little streets and monuments) then Aviles on the coast, the pre-Roman treasures, Luanco and its maritime museum, Cabo de Penas .... there was something for everyone.
Personally I particularly liked the Cap de Penas, the most prominent headland on this coastline, with its fresh sea air and cliffs it reminded me of Brittany. I also liked the port of Aviles, despite the pollution (undoubtedly due to it being an industrial town), but the streets were charming as were the house fronts and town squares.
After our days spent discovering the rich cultural heritage of the region, we honoured the local gastronomy as well as the emblematic cider. Drinking cider is important; however it is also served in a very spectacular way!
Our trip ended with the traditional graduation ceremony after a great dinner dance with a DJ playing some furious rock and roll!
It was another stay which I found invigorating: toning up with the oceanic climate that we know so well in the West of France, stimulating for each of us because during a course with six different nationalities, each participant has to pay attention to the others. During the conversations we hear the musical Italian accent, the Spanish "jota" ... and we realise that the French language is difficult to learn because of all the letters we don't pronounce but are important when written.
This is a small overview of our stay, one week that passed very fast!!
I am sure that Camilo and her team are already planning lots of projects for next year.