Activity =Gold Autumn in Beskids Poland dep. Silesia 2011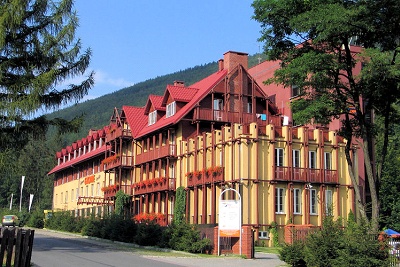 From 09/10/2011 till 15/10/2011

Gold Autumn in Beskids
in Poland dep. Silesia

(meeting)
Organizer = Sekcja Eurojumelages Bielsko-Biała Polska
Deadline
Deposit payment.
Balance payment.
We will be accommodated at the Hotel Gronie in Szczyrk south Poland.


Breakfasts and Dinners will be served et the hotel Gronie
Lunches will be served on the time trips
Alcohol drinks are not included in the prices.
Eurojumelages Beskidy
IBAN : PL22 1940 1076 3076 9995 0000 0000
Bank : Lukas Bank
BIC(SWIFT) : LUBWPLPR
Including: full board accommodation and guided visits, the excursions, the cruise and the folk evening, the bus transportation during the week, the support of a local guide for 5 days.
According to the wish of the group, a transfer to the airport at a cheap price will be organised.
If you cancel your participation before 01/09/2011, you will be charged according to the expenses already made by Eurojumelages Beskids. After this date, no refund will be made.
Every participant must be to take his own health insurance as it is personal
Sunday
2 p.m, arrival of the guests, check-in to the hotel, dinner.

Monday
Breakfast at 'Gronie' Hotel, departure for Ustronia Polany by coach, going up Czantoria by the chairlift, lunch at the mountain hut on Czantoria Wielka, downhill ride by the chairlift, sightseeing in Ustroń, return to the hotel through Salmopol, dinner.
Tuesday
Breakfast at the hotel, departure for Skrzycze, visiting Polish TV Centre, lunch at the top of the mountain, downhill ride by the chairlift, departure for Szczyrk Biła, come back to the hotel, dinner.


Wednesday
Breakfast, departure for 'Bielsko', going up 'Kozia Góra' mountain, lunch at the hostel 'Stefanka', downhill ride by toboggan run, sightseeing in the Town of Bielsko, return to the hotel, dinner.


Thursday
Breakfast, departure for 'Międzybrodzie' going up by rail train to the mountain 'Żar', lunch, short rest, downhill ride by the rail and departure for 'Żywiec', sightseeing, return to the hotel, dinner.
Friday
Breakfast, departure for 'Równica', mulled wine in "Czarcie Kopyto', going to 'Zbójnicka Chata' for lunch, return to the hotel, gala dinner.


Saturday
Breakfast, check-out from 'Gronie' hotel.
Additional information:
All the planned mountain paths are quite easy, not very demanding even for elderly people.
Make sure you've got warm and waterproof clothes with you.
It's advisable to take your cameras and fitness walking poles