Peter at the anniversary celebration 2023 of the Madeira association in Madeira
"Dear friends of Eurojumelages, as President of Eurojumelages, it is important to me to get to know you personally at both regional and national events. Every association has different wishes and needs for our organisation. Personal contact is very important to me so that we can fulfil the wishes and concerns of the individual associations in addition to our major common goal of European international understanding. In this way, suggestions and requests for changes can be discussed together with my board members and incorporated into the work of Eurojumelages. The anniversary celebration with the Madeira section was another such opportunity.
2023: Madeira 11th to 15th October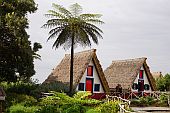 This event was jointly organized by Rui Cabaco and John Saliba. From ten different nations participated: France (10), Germany (14), Italy (1), Malta (3), Poland (2), Portugal (7), Romania (2), Russia (1), Switzerland (2), and United Kingdom (2).
Participants were met at the airport by Paolo from CDCR Madeira and transported to Hotel Vila Gale in Santa Cruz which was directly on the seafront and close to Funchal.

On the first evening CDCR offered a traditional meal with HUGE meat skewers and local sausages, washed down with all the wine we could drink and also several glasses of strong Poncha (the traditional drink of Madeira). In the beginning we were surprised to learn that it is customary to eat such a traditional meal standing up, however chairs and other seats were quickly found for the more physically challenged. It was a lovely evening and very enjoyable.
Thursday 12th:
After breakfast the group boarded our coach and we made our way to Funchal where we had free time to visit the Mercado dos Lavradores and see a colourful display of exotic fruit as well as the fish market. There was also time for a stroll in the old town.

Afterwards the group was divided in two in order to visit the Funchal Bordado Museum where traditional intricate embroidery is done on linen.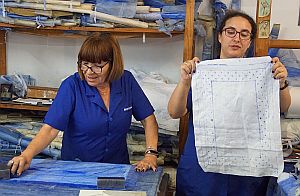 This centre is very famous and produces items for top fashion firms. This place has been operating for over 150 years. We could see the old designs which continue to be used and also many of the associated tools. Luckily, the items produced continue to be in high demand all over the world.
The group was hosted to lunch at the club of CDCR Funchal where we ate delicious fish. Once again a continuous flow of wine, beer and other drinks was offered. An equally delicious dessert was also served!
After dinner we had to miss the planned trip to Monte due to the fast that we had a person who had to return to the hotel. The afternoon visits were to the Eira do Serrado up in the mountains and afterward to the small village of Curral das Freiras, below the mountain that we had just been on. There we were offered a traditional drink of Ginja.
We had time to rest a little, and also for a swim before dinner. Once again we were taken by bus to a traditional restaurant serving delicious meat in copious quantity (everyone sitting down!). Entertainment was provided by a Folk group with traditional instruments and dances. When the folklore show was over, and everyone in the restaurant had consumed quite a bit of alcohol, we were also regaled with singing by a large group of people from Latvia. Not to be outdone, most of our group responded by singing well known songs, led by our Italian soprano: Franco Mazzarella. The singing continued on the bus until we reached the hotel.
Friday 13th: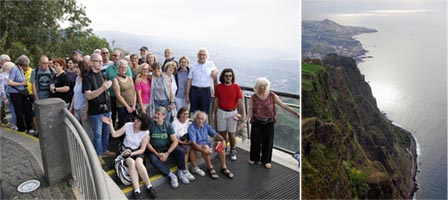 on the bus until we reached the hotel. Friday 13th: On this day we had several visits and started off with a visit to one of the highest cliffs in Europe. At 580 metres high, Cabo Girão is the highest promontory in Europe, but this is not the only reason it has become increasingly famous all over the world. With its famous suspended glass platform (known as a skywalk) its viewpoint is currently one of the most visited places in Madeira.
After this visit we had a lovely drive across the island, passing through picturesque valleys and with high mountains as a backdrop. The road continued along the coast until we stopped in Porto Moniz. Unfortunately the municipal natural salt-water pool was closed, but the ardent swimmers in our group were still able to swim in the Atlantic sea-water since there were also a series of closed natural rock-pools. The sea temperature was actually quite pleasant and the air very warm. People could also stroll along the very picturesque promenade and admire the volcanic rock formations. On the land side we were astonished to witness several small fires which were the remnants of larger fires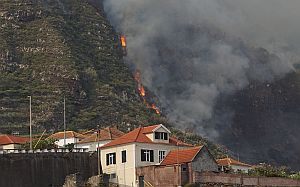 that had raged the day before and which were fortunately being brought under control.
We left Porto Moniz on our way to Santana where lunch was once again served in a traditional restaurant. A variety of meats was offered together with vegetables and of course wine and other drinks. After lunch we made a stop to see the traditional and famous cottages of Santana which are quite colourful and possibly unique.
In the evening we were once again hosted in the CDCR Funchal club where we were offered a delicious meal consisting of tuna and other side dishes, desert and drinks.
Saturday 14th:
We made a short bus trip to Cabo San Laurenco, but the weather was quite misty and windy. Still it was an interesting place to visit and admire.
We were transported to the area underneath the main runway of Funchal airport which serves as an excellent venue for large gatherings and is surrounded by gardens and sports facilities – Parque Desportivo de Agua de Pena. It was here that the celebration of the anniversary of CDCR Madeira was to be held. It is wonderful to see that everything is organized by members themselves and even the folklore group that entertained us also consisted of members of CDCR Madeira and their families. There was also a brass band playing and this contributed to the fun atmosphere. The celebrations started with Holy Mass.


After the mass the bars were opened and there was an unlimited flow of wine, beer and poncho. Food was also cooked by the members of CDCR and they had a lot to do to feed the large gathering which was estimated to be around 300 persons or more! The atmosphere was lovely and towards the end we witnessed an auction of fruit and vegetables and afterwards two huge "birthday" cakes were cut by the Presidents of Eurojumelages, CDCR dos CTT and CDCR Madeira. Our president Peter Backes made a speech thanking our hosts and also highlighting the positive participation of our Portuguese friends within Eurojumelages.

The event slowly came to a close at around 6.00pm. Our hosts offered anyone who was still hungry the possibility to eat a pizza, but this offer was not taken up by anyone since we had eaten more than enough.
This event brought to a close the official programme, however participants were still able to meet at the hotel to have a drink and to talk.
Sunday 15th:
In the morning participants were saying their goodbyes during breakfast and also later in the hotel lobby. Paolo once again provide transport for participants who were leaving Madeira that day; however there were quite a few participants who extended their stay for a personal holiday.
The feeling of friendship among the whole group was very much in evidence and it was very clear that the event was very much in line with the ideals of Eurojumelages.
John Saliba
Association Malta