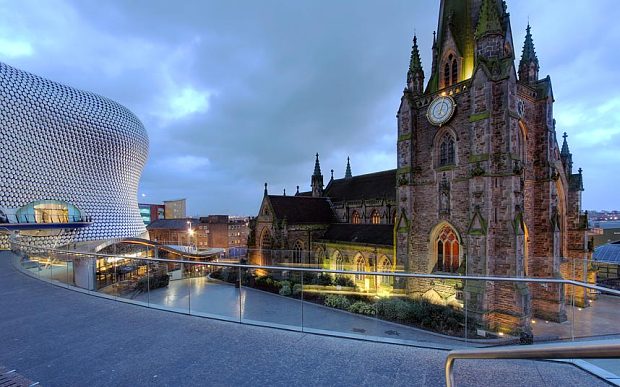 From 29/07/2017 till 26/08/2017

English language course
Language levels = Beginner, Elementary, Intermediate, Advanced, High

in Birmingham - Great Britain
Deadline
Deposit payment.
Balance payment.
01/06/2017
Before 15/07/2017
THIS IS BEING PROVIDED BY LIBERTY LIVING
www.libertyliving.co.uk
THE ACCOMMODATION IS WITHIN A UNIVERSITY DORMITORY COMPLEX IN BATH ROW BIRMINGHAM
THERE ARE 6 BEDROOMS WITH EN-SUITE FACILITIES PER LANDING, KITCHEN FACILITIES -LOUNGE AREA WITH TELEVISION.
THERE IS NO T.V IN YOUR ROOM IF YOU WISH TO BRING A TV OR PURCHASE A TV WHILST YOU ARE IN THE UK YOU WILL NEED TO PURCHASE A TV LICENCE FROM BIRMINGHAM CITY COUNCIL THIS WILL COST £12.50 FOR YOUR MONTHS STAY
IF YOU WISH TO WATCH T.V ON YOUR COMPUTER IN YOUR BEDROOM (THIS IS CALLED CATCH UP TV. THIS IS NOT LIVE T.V AND IS OVER THE INTERNET) YOU DO NOT HAVE TO PAY A LICENCE FEE
YOU WILL HAVE 24 HOUR SECURITY AND 24 HOUR FREE PARKING FOR CARS AND BICYCLES SHOULD YOU WISH TO HIRE OR BRING YOUR OWN TRANSPORT
THERE ARE LOTS OF SHOPS-SUPERMARKETS NEARBY TO BUY FOOD ALSO RESTAURANTS - PUBS IF YOU WISH TO EAT OUT AND ALSO TAKEAWAY FOOD OUTLETS.
NIGHT LIFE IS ABUNDANT IN BROAD STREET
IBAN = GB30 ABBY 0901 2853 9415 08
BIC = ABBYGB2L
NAME OF BANK SANTANDER
ADDRESS OF BANK SANTANDER BUSINESS BANKING BRIDLE ROAD BOOTLE LIVERPOOL L30 4GB
SORT 090128
ACCOUNT NUMBER 53941508

Payment by transfer to the specified bank account is prefered. You can make this transfer even if your currency is not the euro. Please use the account PayPal of Eurojumelages onIy when you have great difficulty making the payment. In this case you will have to increase the amount to be paid by 4.5% compared to the initial amount. After your registration go to the menu 'Payments', on top of this screen or click on the folIowing icon


THE COST DOES NOT INCLUDE COURSE WORK BOOKS OR BEDDING PACKAGES

THE PRICE IS FOR 21 HOURS TUITION PER WEEK AT THE BRASSHOUSE LANGUAGE CENTRE. PART OF BIRMINGHAM CITY COUNCIL.
ACCOMMODATION IS ON A SELF CATERING BASIS AT LIBERTY LIVING. THIS IS UNIVERSITY STUDENT ACCOMMODATION AND IS SITUATED WITHIN WALKING DISTANCE OF THE LANGUAGE CENTRE

THE COST OF COURSE WORK BOOKS
THE COST OF YOUR COURSE WORK BOOK WILL BE BETWEEN £20 TO £35 MAXIMUM DEPENDENT ON WHICH COURSE YOU UNDERTAKE. THE BOOK WILL BE YOURS TO TAKE AWAY AND FINISH THE COURSE IN YOUR OWN TIME

YOU CAN JOIN AN EXAM PREPARATION CLASS (FIRST CERTIFICATE* OR IELTS** ) IF YOU WISH
*YOU WILL BE ASKED IF YOU WOULD LIKE TO JOIN AN EXAM PREPARATION CLASS IF THE TEACHER THINKS THAT YOU ARE COMPETENT
**IELTS IS ONLY AVAILABLE TO STUDENTS AT UPPER IMMEDIATE LEVEL AND ABOVE.
MORNING CLASSES
IN THE MORNINGS YOU WILL STUDY GENERAL ENGLISH, - PREPARE FOR THE CAMBRIDGE ENGLISH LANGUAGE ASSESSMENT FIRST CERTIFICATE (FCE)- OR FOR THE IELTS EXAM.
THE MORNING COURSES WILL START AT 09.30 AM UNTIL 13.00 MONDAY TO FRIDAY WITH A 30 MINUTE BREAK FOR REFRESHMENTS
AFTERNOON CLASSES
ON TUESDAY WEDNESDAY AND THURSDAY AFTERNOONS YOU WILL ATTEND ONE OF A VARIETY OF SKILLS CLASSES. THE AFTERNOON CLASSES START AT 14.00 AND FINISH AT 16.00
THESE SKILLS CLASSES INCLUDE SPEAKING AND LISTENING. READING AND WRITING. ART AND CULTURE. NATURAL EVERYDAY ENGLISH AND ENGLISH FOR JOB HUNTING.
THE SUMMER PROGRAMME CLASSES
THE CLASSES ON THE SUMMER PROGRAMME COVER A WIDE RANGE OF ENGLISH LANGUAGE SKILLS AND WILL HELP YOU TO USE ENGLISH MORE CONFIDENTLY AND EFFECTIVELY.
THE EXPERIENCED TEACHERS AND THE RELAXED FRIENDLY ATMOSPHERE IN CLASS GUARANTEE THAT YOU LEARN AND HAVE FUN AT THE SAME TIME
TRANSPORT
BIRMINGHAM AIRPORT
YOU CAN CATCH A BUS DIRECT FROM BIRMINGHAM AIRPORT TO THE CITY CENTRE APPROXIMATELY 30 MINUTES. YOU CAN WALK FROM THE BUS TO YOUR ACCOMMODATION THIS WILL TAKE APPROXIMATELY 20 MINUTES
BIRMINGHAM RAILWAY STATIONS
BIRMINGHAM NEW STREET
BIRMINGHAM SNOW HILL STATION
BIRMINGHAM MOOR STREET STATION
ALL THE RAILWAY STATIONS IN BIRMINGHAM CITY CENTRE ARE WITHIN A 20 MINUTE WALKING DISTANCE APPROXIMATELY TO THE ACCOMMODATION
BIRMINGHAM BUS STATION (DIGBETH) NATIONAL EXPRESS
THIS IS APPROXIMATELY 30 MINUTES WALKING FROM THE ACCOMMODATION
IF YOU INTEND TO FLY INTO LONDON OR COME VIA EUROSTAR AND YOU WISH TO CATCH THE TRAIN FROM LONDON. TO BIRMINGHAM.
YOU WILL NEED LONDON EUSTON STATION WHICH IS INTERCITY TO BIRMINGHAM NEW STREET AND WILL TAKE APPROXIMATELY 70 MINUTES
OR LONDON PADDINGTON FOR TRAINS TO BIRMINGHAM MOOR STREET THIS IS NOT INTERCITY AND WILL TAKE APPROXIMATELY 2 HOURS.
IF YOU COME VIA EUROSTAR YOU WILL ARRIVE AT ST PANCRAS RAILWAY TERMINAL. IF YOU WISH TO CONTINUE YOUR JOURNEY BY INTERCITY TO BIRMINGHAM NEW STREET, LONDON EUSTON STATION IS JUST A 5 MINUTE WALK ALONG THE EUSTON ROAD
IF YOU WISH TO TRAVEL FROM LONDON BY COACH YOU WILL NEED TO GO TO LONDON VICTORIA COACH STATION.
IF YOU WISH TO TRAVEL INTO LONDON BY COACH YOU WILL COME INTO LONDON VICTORIA COACH STATION
YOU CAN CONTINUE YOUR JOURNEY TO BIRMINGHAM DIGBETH BY COACH THIS WILL TAKE APPROXIMATELY 2 HOURS OR YOU CAN COME BY TRAIN.
MEET AND GREET
YOU WILL ARRIVE SATURDAY 29TH JULY OR SUNDAY 30TH JULY 2017. YOUR COURSE STARTS MONDAY 31ST JULY.WE WILL MEET YOU AT YOUR BIRMINGHAM DESTINATION
AND WE WILL TAKE YOU TO THE ACCOMMODATION.
WE WILL TAKE YOU SHOPPING AND YOU CAN BUY BREAKFAST CEREALS (CORN FLAKES ETC.) TEA COFFEE MILK FROM THE SUPERMARKET
WE WILL SHOW YOU THE LIBRARY COMPLEX IN BROAD STREET WHERE YOUR COURSE TAKES PLACE AND IF IT IS OPEN WE WILL TAKE YOU INSIDE.
WE WILL SHOW YOU THE GENERAL AREA SO THAT YOU CAN FAMILIARISE YOURSELF WITH THE AREA. THE BROAD STREET AREA HAS A WONDERFUL ATMOSPHERE HAS GOOD FOR NIGHT LIFE RESTAURANTS THEATRE- SYMPHONY HALL - MULTI PLEX CINEMA PUBS RESTAURANTS CANALS FOR WALKING ALONG OR RIDING IN CANAL BOATS. OR FOR JUST WATCHING THE WORLD GO BY.
BIRMINGHAM ALSO HAS ONE OF THE LARGEST SHOPPING COMPLEXES IN EUROPE
ON MONDAY 31ST JULY WE WILL BE AT THE ACCOMMODATION AT 8AM AND WALK WITH YOU TO THE BRASSHOUSE CENTRE FOR YOUR ENGLISH LANGUAGE COURSE.
HELP
HELP IS ALWAYS AT HAND FOR YOU. THERE ARE STAFF ON DUTY AT THE UNIVERSITY DORMITORY COMPLEX 24 HOURS PER DAY AND THEY WILL HELP YOU IF POSSIBLE IN YOUR OWN LANGUAGE. IF THIS IS NOT POSSIBLE THEY WILL CONTACT SOMEONE WHO WILL HELP YOU. YOU CAN ALSO GET HELP FROM THE LANGUAGE CENTRE YOU WILL ALSO BE GIVEN CONTACT DETAILS TO SPEAK TO MEMBER'S OF THE TWINNING GROUP IN BIRMINGHAM AND IF NECESSARY WE WILL COME TO THE COMPLEX TO HELP YOU.
BREAKDOWN OF YOUR COSTS
LANGUAGE COURSE E U STUDENTS
21 HOURS LANGUAGE COURSE £420.00 GBP
FOR E.U STUDENTS
ENROLEMENT FEE £80.00 GBP
THIS IS PAYABLE AT THE TIME OF BOOKING AND IS NOT REFUNDABLE
COST OF LANGUAGE COURSE £500.00 GBP
THIS IS PAYABLE BEFORE COMMENCEMENT OF YOUR COURSE.
ACCOMMODATION
4 WEEKS ACCOMMODATION IN
DORMITORY ACCOMMODATION
SELF CATERING £400.00 GBP
SEE BELOW FOR WHAT IS INCLUDED
The Accommodation at our Queens Hospital Close site (near 5 way shopping centre on Bath Row) would be En-suite bedrooms in a 6 bedroom cluster flat with Shared Living Room and Kitchen area at the cost of £100.00 per person per week.

Our price is fully inclusive of:
• All utility bills
• Internet access 50MBps
• Contents Insurance up to £5,000.00
In addition we offer:
• Car Parking complimentary (Limited Availability)
• WIFI
• Free Bike Storage
• On-site maintenance and management team
• Post handling facilities
• On-site launderette – Card Operated
• Comprehensive CCTV Monitoring System
• Close proximity to five ways shopping centre (Morrison's Superstore, Greggs, Boots, Post Office, Several Banks, multiple convenience stores)
When booking the cost of the rent would need to be paid in full. As advised bedding packs would be available at the cost of £25.00 each, however we do offer service packages to large groups depending on your requirements and the size of the group.
THERE IS AN ADMINISTRATION CHARGE OF
£50.00 PAYABLE TO BT INTERNATIONAL TWINNING FEDERATION
AND IS PAYABLE AT THE TIME OF BOOKING AND IS NOT REFUNDABLE.this is made up of meeting and greeting students in Birmingham and taking to accommodation on arrival meeting and taking to Brasshouse Centre for start of course. taking to shops and showing you around
Birmingham
centre. postage and package.of booklet of Language centre and general literature of Birmingham.
THE TOTAL CHARGE IS £950.00 EXCLUSIVE OF COURSE BOOK AND BEDDING.
Vergangene Veranstaltungen