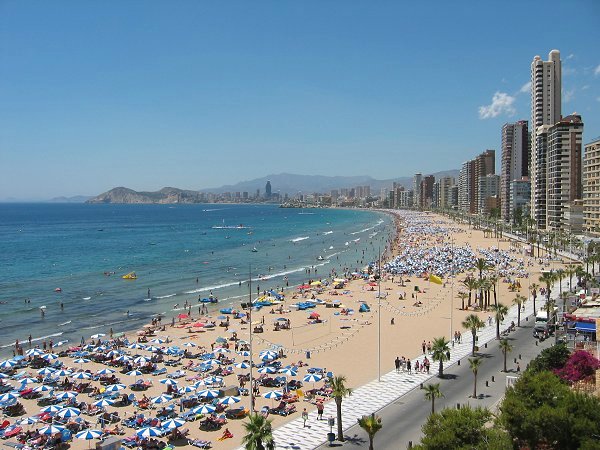 From 06/11/2011 till 12/11/2011

Under Benidorm sun

(meeting)
Organizer = Valencia
Deadline
Deposit payment.
Balance payment.
Payment by transfer to the specified bank account is prefered. You can make this transfer even if your currency is not the euro. Please use the account PayPal of Eurojumelages onIy when you have great difficulty making the payment. In this case you will have to increase the amount to be paid by 4.5% compared to the initial amount. After your registration go to the menu 'Payments', on top of this screen or click on the folIowing icon


Valencia (Spain) which will become an official member of Eurojumelages in the next few weeks, suggests to the European jumeleurs joining them to Benidorm from November 6th till November 12th, during their général assembly.
Benidorm is a sea resort of Costa Blanca, not far from Alicante. It is considered as the sweetness climate and the most beautiful part of Costa Blanca with its white sand beaches. In November the average temperature is from 15 to 20 °.
We reach it by the road N-332 or by the highway AP-7. We can also go to it by bus from Alicante airport.
The route lasts 1 hour and it costs approximately 8 euros. There is a departure every hour.
The price is 195 €, full board with activities in a double room.
Sunday
Arrival of the participants
Delivery of keys
Delivery of the program activities and leaf of inscription
Lunch
Dinner
Monday
1O am : Welcome speech
Explanation of activities and withdrawal of leaves of inscription
Free morning
Lunch
Games,Dance lessons
6pm : tasting of wine and cutting of ham
Dinner
Tuesday
Optionnal excursions
Sudoku championship, even for beginners
Lunch
GamesDanse lessons
7pm : Poetry
Dinner
Wednesday
Gone hiking to the pass of Llamp (average level)
Optionnal excursion to Valencia with a visit of the town
Lunch
Games, Danse lessons
Theater
Dinner
Optionnal, an show at Benidorm Palace (a kind of Moulin Rouge)
Thursday
Excursion to MundoMar (Fair)
Lunch
Games, Danse lessons
Action of the choir Tele – Cor de AGMT Valencia
Tasting of typical products from Valencia
Dinner
Friday
Optionnal excursion to Natura Park
Lunch
5.30pm : Delivery of littérature Prizes
Farewell drink
Dinner
9.30pm : Celebration of Galicia
The comittee could change the program
Saturday
Departure of participants
Vergangene Veranstaltungen