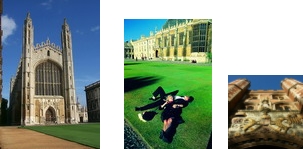 From 19/09/2010 till 25/09/2010

English language course
Language levels = Intermediate, Advanced

in Cambridge - England
Deadline
Deposit payment.
Balance payment.
Home stay accommodation (breakfast + dinner)
Lunch at school
Bank Account to credit : Alliance and Leicester Commercial Bank, UK
Account name is : BTITF
IBAN : GB 64 ALEI 7200 0595 1426 05
BIC : ALEIGB22
Please note that all meals (breakfast, lunch and dinners), cultural, social activities and farewell dinner are included in the cost.  All participants receive a Certificate of Attendance at the final dinner.
The social programme and activities have been adjusted to ensure that those coming back will experience and see different things while in Cambridge. The programme will cover the following and more, weather permitting:
Orientation visit to the City of Cambridge

Punting on the river Cam

Afternoon walk and tea (including cakes) at the Orchard in Grandchester

Trip to Elly cathedral

Visit to the Cromwell museum

Visit to the Fitzwilliam Museum

Trip to the Botanic Gardens

Visit to the American Cemetery

A visit to the Eagle pub where the discovery of DNA was first announced, albeit informally.
This year there is the opportunity to extend your stay for professional experience and language practice. There will be a three day familiarisation/work-experience event, visiting the British Telecom research centre and offices. Please advise when you apply for the language course if you wish to take advantage of this. The work experience will be free, but you will need to extend your stay in Cambridge (we will arrange that for you), and there will be some travelling costs involved. Additional details will be sent to those enquiring.
Vergangene Veranstaltungen