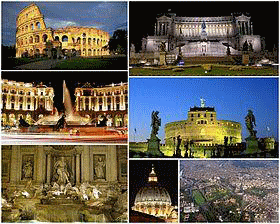 From 08/11/2015 till 15/11/2015

Découverte de Rome

(meeting)
Organizer = UNJPFT
Deadline
Deposit payment.
Balance payment.
15/05/2015
Before 30/06/2015
Pension complète (sauf 1 déjeuner) en hôtel 3* en centre ville
Union Nationale des Jumelages LPFT

Iban : FR21 2004 1000 0121 7425 2Y02 049
BIC : PSSTFRPPPAR


Payment by transfer to the specified bank account is prefered. You can make this transfer even if your currency is not the euro. Please use the account PayPal of Eurojumelages onIy when you have great difficulty making the payment. In this case you will have to increase the amount to be paid by 4.5% compared to the initial amount. After your registration go to the menu 'Payments', on top of this screen or click on the folIowing icon


Le prix comprend:
Pension complète (sauf 1 déjeuner) en hôtel 3* en centre ville, l'assurance accident/rapatriement et l'assurance annulation
Ce tarif est calculé sur la base de 26 participants
L'assurance annulation, assistance, rapatriement est comprise.
Au programme : Galerie Borghèse, Musées capitolins, Château Saint-Ange, Colisée, Mont Palatin et Forum romain Quartier de la Trastevere, Colline du Janicule avec une vue sur Rome, visite de la chapelle Sixtine , les musées du Vatican, La Basilique St Pierre, quartier de la Piazza di Spagna…
Le programme détaillé parviendra aux participants avec la confirmation du voyage après le 30 Avril 2015.
Vergangene Veranstaltungen