2023: Cyclists at the OSCAR on the Swabian Alb
Tuesday 12th September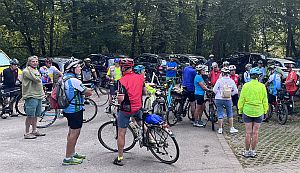 After breakfast and with a packed lunch, we met in front of the holiday village around 9.30 am. The thermometer at the holiday village showed 23 degrees and it was cloudy. The weather forecast predicted possible rain for the late afternoon. We were sent documentation in advance; I had printed it out and had it with me. Christian gave a short speech and Sigrid explained that she would be available with her car and bike rack.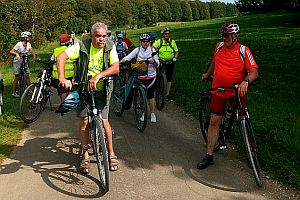 Both groups set off at a slightly different time. The second group consisted of 20 people, the first group of about 7 people. As the holiday village is on an elevated site, we first went steeply downhill to the village of Erpfingen. Christian with his S-pedelec rode ahead and we all rode behind in a beautiful valley plain with its own cycle paths, mostly separated from car traffic. The first 10 km through the Swabian Alb went very quickly, with a first drink break at a golf course. Unfortunately, we received news that one participant had stayed behind for health reasons and could not continue with us.
Then on through the biosphere reserve to Engstingen, where we came across a picturesque railway line with a parallel cycle path, and a rail bus promptly came towards us. There was also a nice view of Lichtenstein Castle. We then cycled along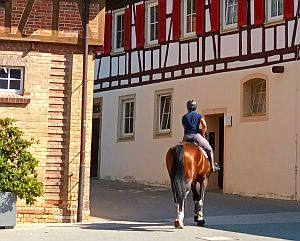 the railway line, past meadows and corn fields, to Gomadingen to the oldest German state stud farm in Marbach with a short tour of the inner courtyard with a drink break. Then on to the Grafeneck Memorial - a German killing center during the Nazi era - which we visited together with Group 1.
We made our way home via Münsingen. In Wasserstetten we stopped at the only open restaurant on our circuit, the Burren. We put together a few chairs and tables outside and waited for the first group, which of course had to take a detour with a steep incline. Looking up at the sky, we saw a high dark cloud building up. The way further led us through the village of Bernloch and the church clock chimed 3 times: 3 p.m. A dark cloud that had already rained in the distance accompanied us. Thinking that the rain would surely pass, during the ride we discussed whether a final rest was possible. Christian with his S-pedelec changed the battery, getting fresh power. We cycled via Meidelstetten and the rest went to Erpfingen to Café Möck for coffee and cake. The cloud didn't catch us after all and we pushed the bikes up the last hill to the Sonnenmatte holiday village. It was a beautiful sunny day with a length of 68 km and 900 metres of altitude difference.


Thursday 14th September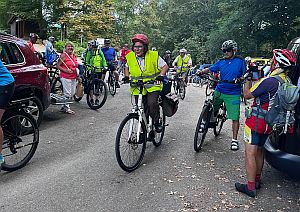 The coach excursion day on Wednesday was good for us. It had also rained heavily that day and cooled down the air. We met again in front of the holiday village, this time at 13 degrees, but with the forecast that the weather would remain stable. In the general discussion before departure, Horst from Stuttgart suggested that he could offer an (even) easier cycling tour. He had found some planned cycling tours in his smartphone. This was appreciated by another two people who were there without e-bikes.
Now with 17 cyclists in group 2 it was once again downhill (22% gradient) from the holiday village via Melchingen along the Lauchert stream with a light fog to Veringenstadt. This stream is natural and meanders through a beautiful landscape typical of the Swabian Jura. In Veringenstadt we reached the southernmost point after a 34 km ride. Veringenstadt is a beautiful little town with typical half-timbered houses. Here we took a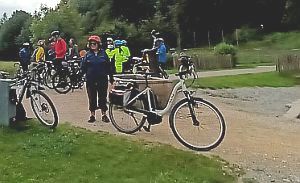 drinking break and a pit stop in the "Lauchertstüble" restaurant. And oh wonder, our "slow" group of 3 was already there and paused with a cup of coffee in the centre of town. It seems they had found a good shortcut. Then came the announced climb to Veringer Hütte, over a narrow 3 km path - about 160 metres in altitude. Thanks to the good road surface and the steady ascent, a ride without dismounting was possible. When we arrived at the top of the hut, we were cheered by cycling group 1, who had already arrived. A little surprise was offered to a birthdaychild as well as to all the cyclists: a glass of champagne.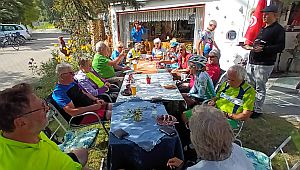 After our packed lunch had been consumed, the journey continued on the heights of the Alb via Inneringen, Kettenacker and Harthausen. What goes up has to come down again: a beautiful 2.5 km long descent with a perfect road surface invited us to "let it run" at top speeds of up to 60 km/h. From Mägerkingen the road was slightly uphill again, but we could already smell Café Möck and in a large group we made the final stop with all the cyclists to enjoy coffee and cake. Some even managed the last ascent to the holiday village without getting off their bike. It was a beautiful day with a length of 69 km and 800 metres of altitude difference.
Toni Meurer / association of Darmstadt / Germany