They tell us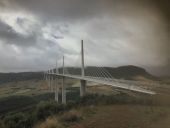 The course was originally planned for September 2020; due to covid-19 it was then postponed to June 2021, but finally organised in September!!
I couldn't believe it anymore, because starting with 48 registrations and finishing with19 was very complicated!!
But today the worries are forgotten and I am left with a feeling of relief and satisfaction. We had a very dynamic group composed of 7 Spaniards, 11 Germans and 1 Dane who adapted perfectly to the different course locations but were assiduously present for their class every morning from 9 am to 1 pm.
The program was extensive: a great day in Aveyron with a visit to the Millau viaduct, the Roquefort cellars with a tasting and finishing at La Couvertoirade, one of the most beautiful villages in France.