2021: First post-covid-19 French course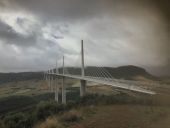 The course was originally planned for September 2020; due to covid-19 it was then postponed to June 2021, but finally organised in September!!
I couldn't believe it anymore, because starting with 48 registrations and finishing with19 was very complicated!!
But today the worries are forgotten and I am left with a feeling of relief and satisfaction. We had a very dynamic group composed of 7 Spaniards, 11 Germans and 1 Dane who adapted perfectly to the different course locations but were assiduously present for their class every morning from 9 am to 1 pm.
The program was extensive: a great day in Aveyron with a visit to the Millau viaduct, the Roquefort cellars with a tasting and finishing at La Couvertoirade, one of the most beautiful villages in France.
The next day, discovery of Montpellier on foot with the highlight of the visit being the view of the city, the sea and the mountains from the top of the Triumphal Arch!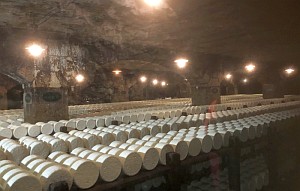 OnTuesday we made our way to Béziers and the 9 locks of Fontséranne, unique in the world and visit of the old town.
On Wednesday it was Marseillan: embarkation on the Thau lagoon with a professional fisherwoman passionate about her profession.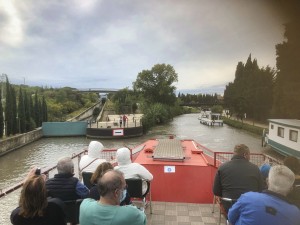 A summer sun accompanied us to the great happiness of all. Then a cocktail workshop in the Noilly Prat cellars. Everyone was able to taste the 2 concoctions of their own making – nobody died even if some put in double doses, and you can imagine the atmosphere when we arrived at the restaurant by the pond where an assortment of seashells awaited us as well as a magnificent red moon which accompanied us throughout the meal!!!
A little respite on Thursday afternoon before the festive evening and the graduation ceremony in the Belvédère lounge at the Corum where the Footloose group of dancers impressed us. Some personalities were present.
As the budget was dwindling, the visit to Aigues-Mortes was done by carpooling after a delicious meal by the sea.
The last evening completely improvised by the group who wished to say farewell altogether, with beer and tapas in a restaurant on the banks of the Lez. The departure was difficult as strong bonds had been forged among all the participants.
Emotions shared by all. But it was over and on Saturday everyone departed bit by bit, leaving me alone, happy with the success and very tired!!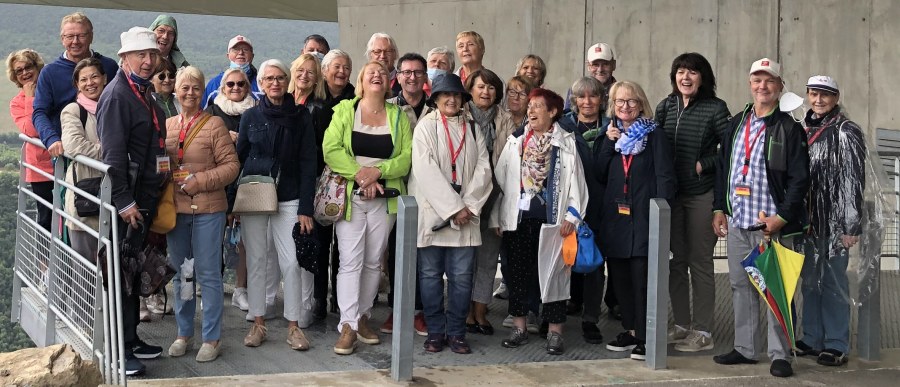 Marie-Hélène Conesa
Sektion Narbonne
Frankreich