Spanish course in Benidorm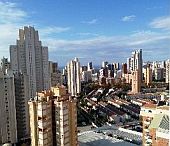 Province of Alicante, Community of Valencia 7 to 11th November, 2021
We begin this report with the genesis of the adventure and the much desired initiative of Antonia from Valencia Jumelages, inviting us to this Spanish course. Obliged to abandon the reunion planned in Murcia in 2020 as a consequence of the health issues of our dear and very devoted organiser, Camilo, and also due to this damned pandemic together with lockdown, our disappointment was enormous. I take this opportunity to pass on our best regards to Camilo who has led us for so long on the roads to the discovery of Spain, its language, patrimony and traditions. Thank you Camilo. We think of you a lot. I am not forgetting Maria Louisa and her Madrid team's investment who concocted gatherings that remain vivid in our memories.
I, we, are deeply grateful to them. Antonia picked up the flickering flame of our exchanges. We appreciate her dedication and we express our most sincere friendship. As soon as the offer was published hope was rekindled and the inscriptions flowed in.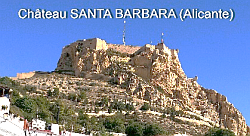 I decided, as a result of the insistence of Carmen Cabrol, but who had to abandon due to health problems, to go to Benidorm by car. My very good friend, Rodolphe, came to join me in Chabeuil and we picked up Anne in Méze.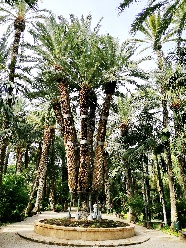 To make the most of this long journey we decided to leave earlier to join Didier the Norman in Alicante where he had already taken his bearings. We had three days to discover the historial district of Santa Cruz, its splendid Santa Barbara castle, the cathedral, a few museums, walks along the coast and, of course, Valencian tapas and paellas. A digression took us to Elche. It felt like we were in a palm-grove in the Maghreb. The inevitable tour through the Huerto del Cura (Priest's garden), a first-rate botanist, showed us mother-in-law's cushions, proud and arrogant peacocks, royal palm-groves, more than majestic cactuses, a pure nirvana under the bright sun.

Benidorm on the Costa Blanca, in the Province of Alicante, Community of Valencia, practically Manhattan by the sea. It's here in the Hotel Melia that Antonia Monedero Carrion of Valencia Jumelages was waiting for us, taking advantage of the annual congress of the Valencia Telefonica retirees. Little by little everybody met up with happiness and communicative joy, but without impestive demonstrations of affection to avoid propagation of Covid 19 and its highly contagious variants. All participants, retirees and twinners were together in the first assembly. Colourful rucksacks were distributed for twinners on the loose to wear. Antonia gave us the usual advice for our stay, courses and activities with the pensioners.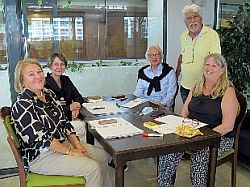 Lessons were organised from 9 am to 1 pm in 3 levels, made up of 18 French, 9 Germans, 1 Pole and 1 Italian. In short, 29 students were dispatched into classes: 3 beginners, 13 intermediate and 13 advanced with the possibility of changing class according to his/her desires and possibilities.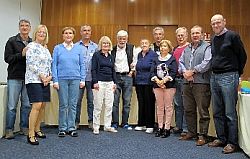 We had the surprise and honour of counting amongst our participants the President of Jumelages, Europe, Peter Backes and his wife. The Hotel MELIA, well located, is enormous ; over 20 floors plus basements, frequented by a lot of Brits who appreciate the clement winter climate in the village of 70 000 inhabitants. Everyone wore a mask, not just the bandits who obviously we could not recognize.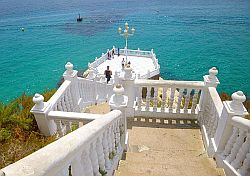 Afternoons were free and everyone according to affinities and friendships wandered along the seaside promenades of the Costa Blanca alongside the super beaches of Poniente or Levante. These are separated by a historical cape where there was formerly a defensive fortress to protect against the Algerian and Berber pirates. Today the Mirador of the Punta de Canfali is well laid out, some castle ruins, a must-see belvedere, the St. James and Ste Anne church built between 1740 and 1780, some shops and a hotel share the rock. Some brave-hearted took advantage of the heat of the sun to splash around in the big blue sea.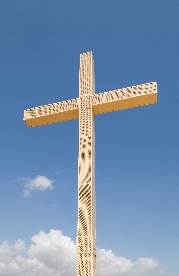 Skyscrapers to your heart's delight are visible in such an ostentatious manner it's difficult to escape them. For example, the most extraordinary, Hotel Bali (186 metres) is the highest in Europe. We felt like Lilliputians. They looked down on us shamelessly.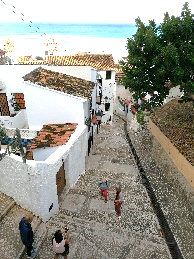 Certain of us went shopping while other sports amateurs in need of exercise climbed the Natural Park of the Helade up to the Creu of Benidorm (239 metres) from where the panorama is a reward for the effort.

As to myself, with no love of solitude and with some friends, we escaped to Altea. This old city full of charm, stretches from the summit to the foot of the hill in the sea. What a pleasure to stroll along the paved streets, far from the seething crowds of Benidorm, between the originally immaculate white walls and come across the square with its beautiful old church, then admire the view from the Mirador of the Cronistas of Spain. Others with private vehicles discovered Guadalest, one of the most beautiful villages in Spain.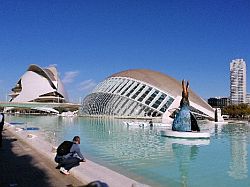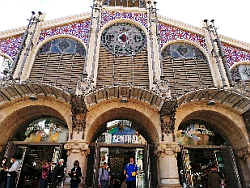 On Thursday, Valencia, the 3rd largest city in Spain, awaited us for a flying visit of its emblematic monuments : The City of Arts and Sciences with its futuristic architecture, the Opera in Queen Sofia's Palace, the 13th century Gothic cathedral home to the Sacred Grail, the Central Market (1910), the essentially art-deco Town Hall square with its central Post Office. Naturally, all this incites us to come back and spend a long time exploring these buildings.
On Friday evening we gathered together in an enormous hall for the traditional speeches. The retirees, then our President, all made their contributions. The students gathered around Antonia and received their end-of course diplomas from the hands of their teachers, Caty, Dioni and Antonio, in a warm and convivial atmosphere. An abundant and noisy buffet of promises to get together again ended this final session.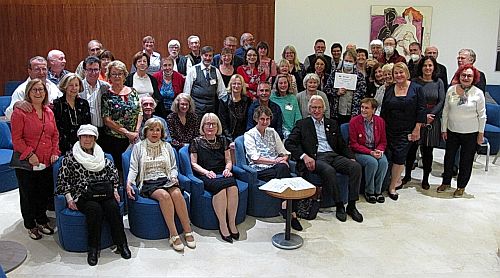 Only our Monika, usually so calm, cast a cloud over this evening fracturing her humerus in a painful fall. She was operated upon in Germany and is patiently recovering. We hope that this episode will not give rise to untoward consequences. We also learned that some of us had been touched, luckily without gravity, by the pandemic. We wish them all a prompt recovery. Take care is the sole recommendation. It will be a relief when we can once again embrace without fear and reproach, to quote our famous Chevalier Bayard. Thanks a million, dear Antonia, for this unhoped-for reunion, these discoveries, this Benidorm sun. Thanks to our attentive, comprehensive and kind teachers from all of us, grateful disciples.
Louis Guépin
Association of Lyon
France