2022: Meeting of jumeleurs in Bourges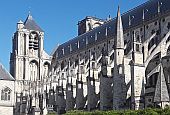 During the period 9th to 13th June, twinners of the association of Bourges and their President Michel MANIGAULT hosted their German friends from Bonn: Peter BACKES - President of Eurojumelages, Helga KROLL - correspondent of Bonn and members; twinners from Châlons-en-Champagne accompanied by Pierrette LUROT, their President, were also invited. Michel MOREL, President of the National Union and his wife Chantal honoured us with their presence.
During these 3 days, the group visited the city of Bourges, its cathedral, the Palais Jacques Coeur, the old town, its gardens and its marshes.
The twinners were welcomed at the town hall by Mr CABRERA, Deputy Mayor of Bourges, with whom they had a warm exchange on the various activities with the European towns twinned with Bourges. A welcome drink was offered and those present drank a toast to commemorate the French-German friendship.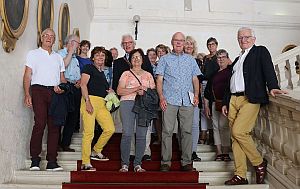 On the 2nd and 3rd days, the group visited the Berry/Sologne area: the observatory Pôle des Étoiles in Nançay, the Castle of Menetou Salon and the potters' village of La Borne.
On Saturday evening, we met for a festive dinner in the heart of the marshes at the restaurant "Le Caraqui" where, to the sounds of Gérard's guitar and Corinne's violin, speeches were delivered and gifts presented. The festive mood and the abundant joy of everybody were much in evidence.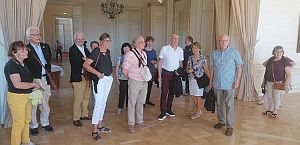 WDuring these visits and the various meals, the exchanges were very warm, convivial, constructive and rich in friendship.
The French and German twinners all appreciated this very friendly meeting and left each other with a lot of plans, hoping to meet again in 2023 in Bonn in Germany and in Châlons-en-Champagne.
Michel MANIGAULT
President of the association of Cher
France