A"twinner" from Nantes in spanish course in Ubeda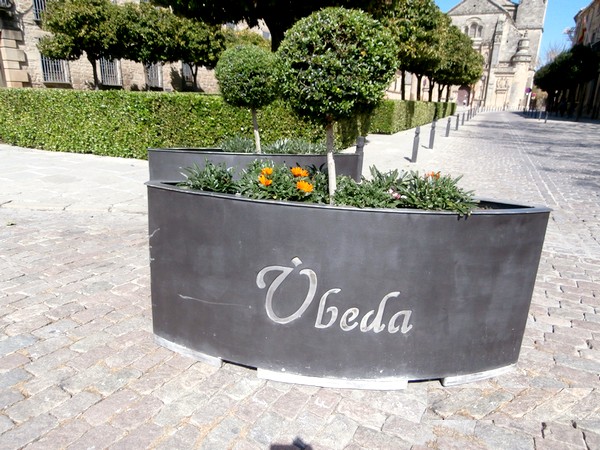 This report is from Jacques Papin, a "twinner" from Nantes, who has been attending Spanish lessons organised by Camilo Campillo for several years:

We were 36 students and 3 teachers (Antonio, Nati and Pilar) as well as Camilo, who organised the Spanish course. This year there weren't any Polish participants. There were French, an Italian and some Germans.
In the Spring of 2014 our Spanish friends suggested that, as part of the Language Courses offered by Eurojumelages, we should all meet up in Ubeda, a town in the eastern province of Jaen in Andalousia.
Our meeting point was in Madrid, wherefrom we travelled by coach to Ubeda, a town of 35,000 inhabitants situated at 700m altitude and surrounded by olive trees. The accommodation was fit for a king and the food was enjoyable.
The lessons took place in a hotel with our three teachers. Everyone was satisfied, whether they were beginners, intermediate or advanced learners. The lunch, however, .... served at 2pm, was most welcome when it arrived! Then, after a short siesta, we left for afternoon sightseeing tours concocted by Camilo.
The tours included Ubeda's churches, palace and convent and the village of Baeza, 8km away. The two towns are Unesco World Heritage sites.
We went on a day trip to Jaen , the capital of the province (116,000 inhabitants). There we visited the cathedral and the Arab baths, then the coach took us to the Medieval fort which dominates the town from Santa Catalina hill; a superb outlook over the town and the surrounding countryside. I greatly appreciated the mountain view. On the outward and home journey we saw thousands of olive trees.
We wanted to visit an olive oil factory - and we did, as well as a potter and a craftsman in iron.
Flamenco is part of the Andalousian spirit. Four young people came to our hotel for a flamenco demonstration ( guitar, song and dances). This inspired two of our participants to show off their Sevillian dancing talent on the Friday evening.
The week was bathed in summery sunlight and friendship. I always come home for these trips delighted, because, on top of the lessons and the sightseeing, there is always a good atmosphere in the group. Above all , there are the exchanges in Spanish but it is also a person-to-person exchange, listening to each other.
A splendid stay, I'll be back ...


Written by Jacques Papin, course participant.