"Dear friends of Eurojumelages,
as president of Eurojumelages it is important for me to get to know you personally at regional as well as national events. Each section has different wishes and requirements for our organization. Personal contact is very important to me so that we can do justice to the wishes and concerns of the individual sections in addition to our great common goal of European international understanding.
In this way, suggestions and requests for changes can be discussed together with my Board members and incorporated into the work of Eurojumelages. The 2023 language course in Nantes was another such opportunity"..
2023: FRENCH LANGUAGE COURSE, 25 JUNE - 2 JULY IN NANTES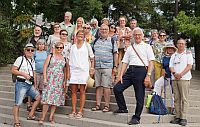 It was a great pleasure for me to participate as a student in the French course in Nantes from 25th June to 2nd July. Here is a report from the event, to which course participants from the countries Germany, England and Poland contributed.